Sightseeing tours by bus in Frankfurt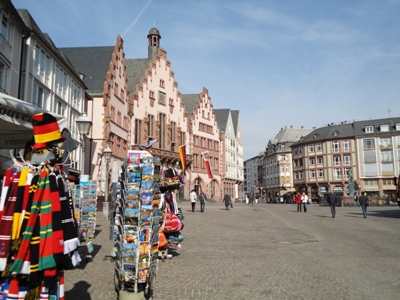 Through the charter bus company Frankfurt Bus, you can rent buses with driver for sightseeing tours in Frankfurt am Main, according to your individual wishes. For small groups, we can provide you with chauffeur-driven minivans that will take you from one attraction to the next. Larger groups can rent buses with driver. Additionnally, upon request we can also provide you with a professional English speaking tourguide who will explain you the sights of Frankfurt and tell you amusing anecdotes and interetsing information about the city history.
Classical sightseeing tours in Frankfurt
During a classical city sightseeing tour in Frankfurt, you will see the sights of the old town as well as the "museum shore", the house of Goethe and the modern business and banking quarter of Frankfurt. We will start our bus tour either at the railway station or at your hotel or at any other place of your choice in Frankfurt am Main. After a short introduction into the history of Frankfurt by your tourguide, we will stop for a walk at the "Römerberg" where we will see the town hall, the justice fountain, the characteristical half-timber houses and the nearby cathedral with its 95 meter high tower, where 10 German emperors have been crowned. Afterwards, we will get back on the bus and continue our city sightseeing tour. We will visit the house of the famous writer Goethe, then cross the Main river and drive along the "museum shore", have a look at the "Städel-Museum", the museum for applied arts and many other museums, cross the Main river again, visit the banking and business quarter and finish our city sightseeing tour either at our original meeting point or at any other location of your choice within Frankfurt am Main.
Special city sightseeing tours in Frankfurt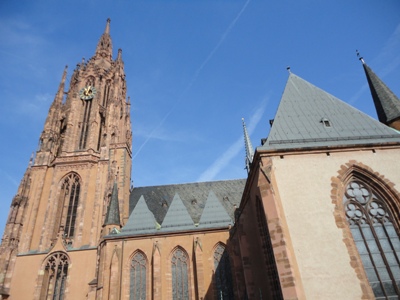 Besides classical city sightseeing tours, Frankfurt can also be visited in many other ways during a bus tour. According to your individual wishes and needs, we are ready to design your tailor-made sightseeing tour, for example by integrating a museum visit or an ascent to the panoramic platform on the Main Tower into the itinerary. Also, it is possible to focus the entire program of your bus tour upon one specific topic. For example, we do offer city tours on the traces of literature, art history, religion and many other topics. Our tourguides have an enormous repertoire of informations and anecdotes and will be happy to present you during one of our bus tours exactly the very aspect of Frankfurt that you are interested in!
How to book a bus tour in Frankfurt?
To book a sightseeing tour in Frankfurt by bus or minivan, please send us a request to . We will get back to you with a customized offer for your bus charter which you only need to send back with your signature in order to confirm your charter bus booking!